Posted January 28, 2014
The County Executive Lays Out An Aggressive Agenda For 2014
Highlights Cuts in Spending, Increases In Services
Stone Ridge, NY –Ulster County Executive Mike Hein delivered his sixth annual State of the County Address at the beautiful SUNY Ulster campus to an audience filled with Ulster County residents and business owners, as well as state and local dignitaries.  The address began by the County Executive highlighting the challenges that his administration has overcome and how unique Ulster County government has become within the State of New York.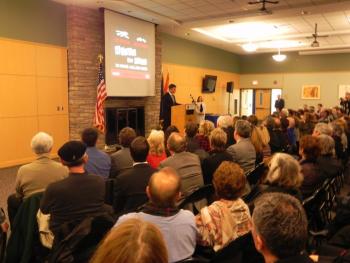 County Executive Hein said, "Over the past five years, while reinventing a $336 million dollar County government, we have designed and implemented a number of creative solutions, some of which have never been seen anywhere in New York State.  We have avoided raising taxes, cut government spending, improved our bond rating, all while ensuring essential services for the people of Ulster County."  
By embracing innovation and change and balancing fiscal responsibility with social responsibility, Ulster County Government has:   
Avoided raising County property taxes, the tax levy has actually gone down over the past three years;
Implemented the single largest reduction in Ulster County Government spending in history - $23.7 million;
Significantly reduced the size of County government – County government is one-third smaller;
Proposed legislation for campaign finance reform – placing strict limitations on campaign contributions;
Proposed anti-tobacco legislation to protect the children of Ulster County by restricting the sale and in-store advertising of tobacco products in school zones;
Developed a suicide prevention "smartphone app" which is the first of its kind in New York State;
Embraced public/private partnerships to continue to provide access to quality mental health care to residents through the Ulster C.A.R.E.S. Initiative in spite of New York State cuts to funding to County government by over 50% in the last five years;
Developed a local solution to transitional housing for Ulster County's homeless Veterans with the Patriots Project;
Moved forward with the S.T.R.I.V.E. Project, which will locate a SUNY Ulster Extension Campus at the now vacant Sophie Finn School in Kingston to provide greater access to higher education to inner city students;
Initiated a six month aggressive pilot program to assist chronically unemployed individuals, providing Ulster County Businesses with 90% of gross wages for on the job training of eligible new hires;
Discussed a new UCAT bus "locating app" to provide enhanced ease of use to help riders with our transportation system;
Secured funding from both New York State and the New York City DEP to help develop a world class, interconnected rail trail system across the County.  The New York City DEP $2.5 million dollar inter-municipal rail trail agreement will help create a world class interconnected rail trail system, which will become a one-of-a-kind tourist attraction linking the highly popular Walkway over the Hudson with the beautiful Ashokan Reservoir;
Included an open spaces program in the 2014 Capital Budget to protect the environment, help sustain local agriculture, and close gaps in the trail network;
Launched a redesigned state-of-the-art County website which improves transparency and is user-friendly;
Replaced the severely outdated financial system by working to install a comprehensive, integrated, internet-based financial management system which will be completed this year with the assistance of the County's new A.C.E. Unit; and
Continued the planned County takeover of the cost of the Safety Net program
County Executive Hein also asked the Ulster County Legislature to set policy on some important issues still facing Ulster County: 
The Resource Recovery Agency (RRA) to address the need for a comprehensive solid waste policy to lead the County into the next century;
Interoperability and insuring radio communications for our first responders, now and in the future;
Broadband expansion and improving internet access for County residents; and
A law enforcement policy to ensure affordable high quality police protection.
County Executive Hein stated that the transitional housing for local homeless veterans will be opening this year.  Hein continued by thanking the community for the outpouring of generous support for the Patriots Project including: veterans groups, service organizations, Sawyer Motors of Saugerties, Benedictine Health Foundation, the Community College, the Church Communities, Herzog's and Benjamin Moore, the United Way and others for the generous donations, as well as the Ironworkers and tradesmen who built a handicap accessibility ramp for free. 
Regarding the economy, County Executive Hein discussed a six month aggressive pilot program to assist chronically unemployed individuals which will provide Ulster County Businesses with ninety percent of gross wages for on the job training of eligible new hires.  It is designed to help people get back to work. 
County Executive Hein commended the Ulster County Office of Business Services for their role in helping to secure approximately $6 million for area businesses and municipalities through Governor Cuomo's highly competitive Regional Economic Development Council.
The County Executive added that with the overhaul of Ulster County tourism in 2009, tourism has increased 22%.
In discussing the history of the Safety Net takeover, County Executive Hein briefly addressed the "Cahill Crisis" and thanked the County's representatives in Albany, "We have strong members of our State delegation serving with honor and distinction, and I want to thank Senator William Larkin, Senator Cecilia Tkaczyk, Assemblyman Frank Skartados, and Assemblyman Peter Lopez for all they have done, as these individuals stepped up in a bi-partisan way and limited the damage."
County Executive Hein also applauded Governor Andrew Cuomo for his creation of the Moreland Commission in an effort to rid New York State of the epidemic of public corruption and reminded the audience that in contrast, Ulster County has become a model of good government and reform.
County Executive Hein stated that "By working together, the impossible becomes possible in Ulster County, if we are willing to put the interests of the people before the wants of the politicians."  
County Executive Hein summarized his bold visionary agenda, "…. our anti-tobacco legislation, to protect our children; our campaign finance reform, to protect our democracy; our open space program, to protect our environment; and also the $2.5 million dollar inter-municipal rail trail agreement at the Ashokan, to help protect our future." 
He continued, "Our future is bright because we live in Ulster County, the finest place anywhere to live, work and raise a family," and he concluded by proclaiming that "Ulster County is strong …. because of you!"
To view the 2014 State of the County Presentation please visit: http://ulstercountyny.gov/executive/state-of-the-county