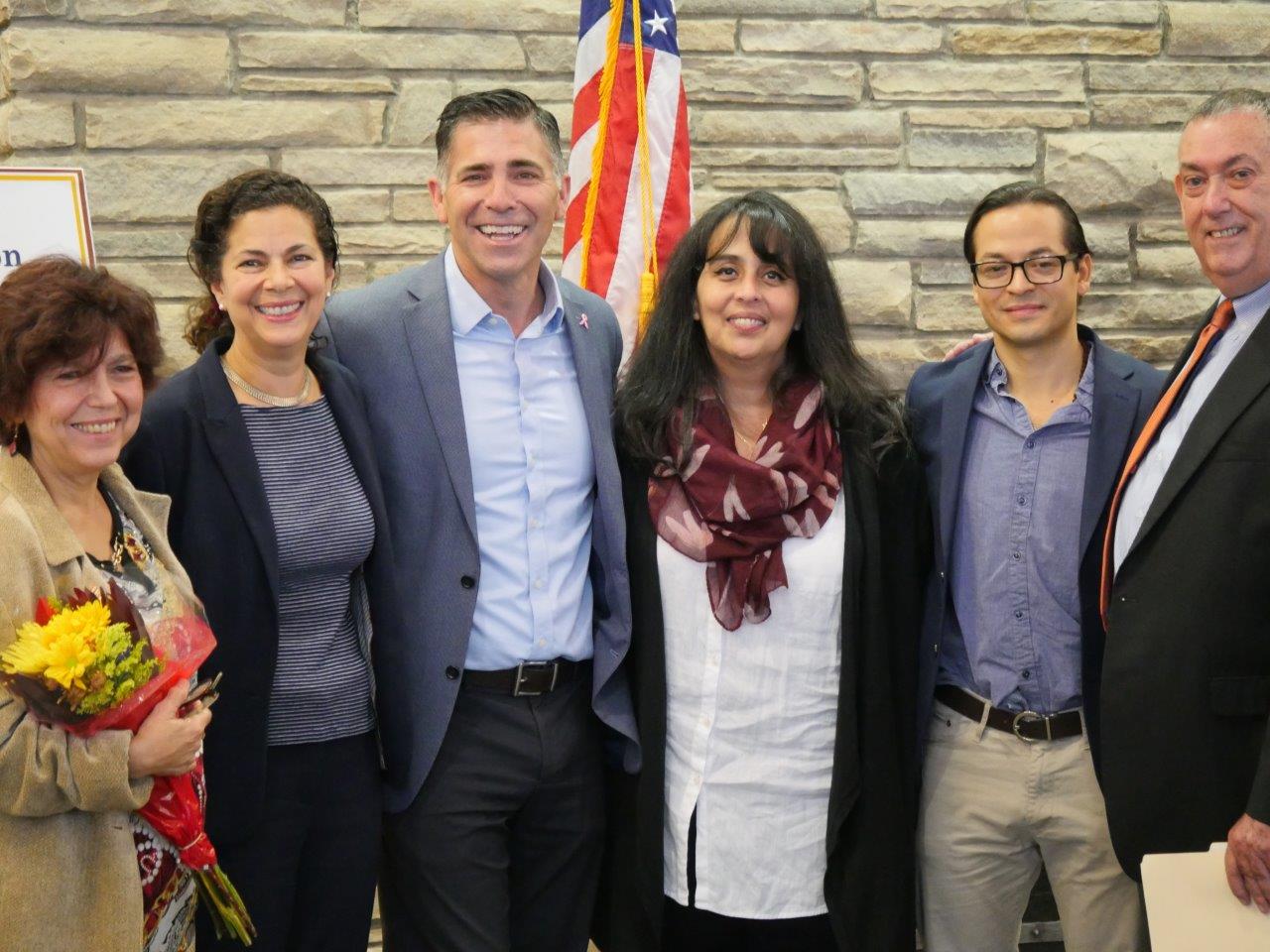 Posted November 5, 2018
Recognizing Local Leaders For Their Economic And Cultural Contributions To The Community
Stone Ridge, N.Y. – Ulster County Executive Mike Hein was joined by Arnaldo Sehwerert, Ph.D., Regional Director of the Mid-Hudson Small Business Development Center at Vanderlyn Hall at SUNY Ulster in Stone Ridge to celebrate Hispanic Heritage in Ulster County and recognize local leaders in the Hispanic community.  The County Executive recognized the following individuals for their cultural and economic impact on the community:  Maria Elena Ferrer-Harrington, Noe Del Cid, Dolores Quiles, and Alexandra Baer.
Michael P. Hein, Ulster County Executive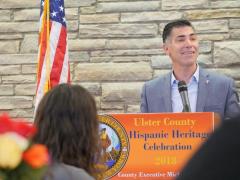 "Although Hispanic Heritage Month recently concluded, I am proud to continue the celebration with the outstanding individuals who we highlight today.  It is my great honor to recognize these wonderful people who truly make a difference, positively impacting our community through the arts, education, business or their leadership and communication skills," said County Executive Mike Hein.  "We are fortunate to have an incredible Hispanic population in Ulster County that contribute so much to our local economy and social fabric and it is a privilege to be able honor these exceptional leaders. Their commitment to Ulster County's diverse and amazing community is truly appreciated." 
Arnaldo Sehwerert, Ph.D., Regional Director of the Mid-Hudson Small Business Development Center
"We have strong historical roots based on cultural diversity in Ulster County and value the many contributions of the Latino community in maintaining the high level of quality of life we enjoy," said Arnaldo Sehwerert." "Kudos to County Executive Mike Hein for encouraging and promoting a climate of inclusion and respect for all."
The honorees are:
Maria Elena Ferrer-Harrington, Community Leader- Maria Elena Ferrer-Harrington is HealthAlliance's Director of Community Engagement, and also the Executive Director of Humanamente, a diversity and inclusion consulting organization.  She is Chair of the Athena Network New York, a psychosocial support network in the area of social services, health, and mental health for immigrants experiencing psychological challenges related to the migratory process and is a member of the Ulster County Human Rights Commission. 
Originally from Caracas, Venezuela, Maria Elena has worked facilitating migration-related workshops in Spain and the US. As a member of the global Athena Network Association, Maria Elena is a frequent presenter of her work with immigrants at the network's annual "Migration and Mental Health" international congress. She introduced the concept of migratory mourning nationally at the 2012 National Council of La Raza's (now SomosUS) Annual Conference and is a frequent speaker on that subject as well.  She is also a speaker on the importance of humanizing migration and her work is known within the European Parliament and the United Nations. She is scheduled to be a speaker at the Athena Network's eighth International Congress on Migration and Mental Health, which will be held at SUNY New Paltz next year.  Maria Elena started her studies at the School of Architecture at the Central University of Venezuela. She later earned a certificate in leadership and empowerment from Polytechnic University of Valencia in 2004 and a diploma in gender leadership sponsored by an initiative of the European Social Fund. Maria Elena also earned a University Expert Diploma in Mental Health, Cultural Processes, and Psychological Interventions with Immigrants, Minorities, and the Socially Excluded from University of Barcelona in 2017. She is an author and has contributed to various news articles over the years.
"I'm really flattered to receive this honor. I've been warmly welcomed in this community from day one, and I'm proud to call Ulster my home. A very special thanks to the Office of the County Executive and to Mike Hein himself, for choosing me. I'm humbled you would place your trust in me to serve protecting human rights and the dignity of all people in this county. I take this role seriously and look forward to continuing the work," said Maria Elena Ferrer, Health Alliance Director of Community Engagement.
Noe Del Cid, Kingston Business Owner– Noe Del Cid is a father, yogi, investor and entrepreneur with a focus on green business. A natural born entrepreneur, Noe got his real estate license at age 19 and opened his first restaurant at 26. He founded an apparel company focusing on sustainable fabrics called Peace Nation in 2013, and later opened Peace Nation Cafe in midtown Kingston in 2016. Peace Nation Café is a Central American themed eatery with a focus on locally sourced organic ingredients. He is also co-founder and managing partner of Del Cid Real Estate, LLC. Noe currently serves on the board of Kingston's Midtown Arts District.  Born in Guatemala City, he came to New York at a young age and had the privilege of having a multicultural world view. Growing up in an entrepreneurial household he was inspired by hard work, determination, and viewed the results and benefits of personal development. He earned a degree in business marketing from Westchester Community College and later attended SUNY New Paltz' School of Business. 
"I want to thank County Executive Hein for this special recognition," said Noe Del Cid, Owner of Peace Nation Cafe.  "It is important to build a business that minimizes environmental impact, adds value to the community, while making a profit.  I believe that is where our next challenge lies. You look at the world around you, people are suffering, the earth is suffering and something has got to change. Solving this next piece of the economic puzzle where one can help people and the Earth is this next century's biggest business opportunity."
Dolores Quiles, Educator– Professor Dolores Quiles is a native of the Bronx. In 1975 she received an Associate Degree at Columbia College in Missouri; in 1978 she received her BA at California State University at Chico; and in 1991 she earned her MS at SUNY New Paltz. Dolores is a Nuyorican-- a person of Puerto Rican birth or descent who is a current or former resident of New York City-(Webster's Dictionary).  One of her greatest inspirations is her father Nicolas Quiles who was a leader in his community in the 1960s and 70s.  In the 1970's, Dolores worked in California teaching ESL to migrant children.  In the early 1980s, she was a Kindergarten-1st grade teacher in a year-round, bilingual, bi-cultural, inner-city public school in the Los Angeles School District.  Then she moved to Long Island where she was the Director of La Union Hispanica in Central Islip.  La Union Hispanica was a program set up by the Suffolk County Health Department to educate Spanish speakers in health education. Professor Quiles started at SUNY Ulster in 1991 as an ESL adjunct professor and in 1999 became a full-time faculty both as an ESL faculty and program director. She has taught students from Russia, the Middle East, Asia, Africa, Europe, and Latin America.  Presently, there are over 200 ESL students at SUNY Ulster with the largest population being Spanish speaking. Many of her former students are now lawyers, doctors, sportscasters and business executives.  Dolores really enjoys working with all students, but she can't deny that working with ESL students brings her back to her years growing up in NYC where she found support in caring mentors and teachers who inspired her career. They taught her that it was possible to reach the stars with the ability to read, write, and think critically. They also taught her to pay it forward.  She continues to serve students and those in our community members. 
"It is an honor to receive this recognition from County Executive Hein as part of Ulster County's celebration of Hispanic Heritage. I am fortunate to be able work with students in my ESL classes at SUNY Ulster and feel as if I am making a difference in their lives.  Education is the foundation for our future," said Dolores Quiles, ESL Professor at SUNY Ulster.
Alexandra Baer, Artist, Director of Unison Arts Center - Alexandra Baer is a professional sculptor and dedicated teacher with over 25 years' experience in owning and running successful businesses in the arts in NYC and the Hudson Valley. She recently became Director of the Unison Arts Center in New Paltz.  This not-for-profit organization is dedicated to enriching cultural life and community in New York's Mid-Hudson Valley by making high quality arts, performances and educational experiences accessible to all.  Her contributions to the community and the arts are many.  She has created design exhibits for over 50 museums and companies in the US and abroad, and has run international travel art based programs in Spain, Mexico, Italy, the Netherlands and Canada for over 8 years.  She has led after-school programs for at-risk youth (mostly Latino and African-American) focusing on furthering educational possibilities with an emphasis on obtaining college level education while securing funding.  She started and advanced an international art student exchange program between students in New York and Mexico.  She has also taught advanced sculpture and 3-D design at The Art Institute in Poughkeepsie and has participated in teaching activities at Boston University, the University of Georgia, and SUNY New Paltz among others.  Her entrepreneurial spirit has deep roots in her native Mexico where she remains engaged in the family business, a boutique hotel dating back to the 1700's. She also owned and operated Whiskey Hill Foundry for over 10 years, producing metal sculptures and one-of-a-kind furniture.  Alexandra earned a BFA from Boston University, School of Fine Arts and received her MA in Art History from Harvard and was a member of the board of the Michael C. Carlos Museum at Emory University in Atlanta. She is a horseman, rock climber, runner and avid cook.
"I am honored and excited to be recognized by County Executive Mike Hein for my work with the Hispanic community in Ulster County," said Alexandra Baer, Director of Unison Arts Center. "The work I've done helping Latino youth find opportunities for higher education and for career advancement is at the core of my dream that everyone in this country has the possibility of achieving their goals and dreams. With the help of the Ulster County community and many different businesses and non-profits, I feel that Hispanic Heritage can be truly celebrated and that we, as a small part of the Hudson Valley region are making great steps in advancing the Latino/Hispanic career opportunities. I also thank County Executive Hein for his continuous and dedicated support of Hispanic leaders and their efforts in Ulster County."
Pictured Above 1) (from left) Dolores Quiles, ESL Professor at SUNY Ulster; Alexandra Baer, Director of Unison Arts Center; Ulster County Executive Mike Hein; Maria Elena Ferrer-Harrington, Director of Community Engagement at Health Alliance; Noe Del Cid, Owner of Peace Nation Café; and Arnaldo Sehwerert, Regional Director of Mid-Hudson Small Business Development Center. 2) Ulster County Executive Mike Hein.