Susan Koppenhaver, Director
1003 Development Court
Kingston, NY 12401
Phone: 845-340-3456 or Toll Free at 1-877-914-3456
Fax: 845-340-3583
It is the mission of the Ulster County Office for the Aging to assist and empower older adults and their families to live as independently as possible, with dignity and purpose.
Ulster County will strive to reach more older adults and expand upon its current services by bringing them to remote and  underserved areas of the County.  This includes new educational health promotion, service enrollment and senior advocacy program opportunities so they can stay in, and contribute to, their community.
To view the Ulster County Senior-Friendly Community Action Plan please click here.
The Office for the Aging is open and looks forward to seeing you.  Please be advised that visitors must wear a mask and maintain social distance guidelines.  If you are not feeling well please stay home. In addition, appointments may be made ahead of time by calling 845-340-3456.
To our fun-loving Elders in Ulster County!
I hope everyone had a wonderful and healthy, safe holiday -we aren't past this virus yet, so please continue to practice safe habits, like mask wearing, and social distancing. 
It's January, it's cold in the Hudson Valley, and now is the perfect time to come to the Hub every Wednesday, maybe have lunch at midday, and then play some games.  Game Day happens each Wednesday at 1:00 to 3:00 P.M. - so many benefits (see my article this month!)
Those of you who have emergency flip phones from OFA, please be aware that soon, those phones will no longer work with the advent of the 4-5 G networks being instituted soon.  4 and 5G networks will need the current bandwidth being used by older phones to be able to be faster and run more efficiently.  The current network (Verizon, Sprint, etc.) that support your phone services will be switching over to a faster network (4-5 G).  Apparently, the phones will no longer operate to be able to call 911.  Please check with your provider on this.  We were contacted by the purveyor of these phones, and they will NOT operate after a certain date in an emergency.  Please make sure that you have some way of contacting 911!  You will probably have to upgrade your phone. 
We are still looking for drivers and warm callers – those who give a phone call every week to isolated elders.  Also looking to develop a trusted list of folks who would volunteer to do small repairs in the homes of older adults. If you or anyone you know fits these bills, send them to me!
We were able to assist over 600 60+ people with their Medicare plans this year, a big increase over last year.  Also, if you have been a past client of the AARP tax Aide program, this will continue for you.  Other folks, please call 845-443-8823 and leave your contact information in case this is something you need. 
Please continue to make the right decisions for yourself, your health, and your community!  It's working!
Susan Koppenhaver
Director
UCOFA Winter Weather Policy:  Winter is here!
*** All Senior Hub activities will be cancelled if the Kingston City School District declares school cancellation.
(For Home Delivered Meals and Community Café's please check Gateway's policy.)
*** Senior Hub morning activities will be cancelled if Kingston City School District declares 2-hour delay.
***County declares State of Emergency-cancels all Hub and OFA programs- OFA office will be closed. 
 COVID-19 Booster Shots
Appointments should be made at https://vaccinateulster.com/. Walk-ins at Ulster County Point of Dispensing (POD) Best Buy site in Kingston, NY on Friday's from 11:00 A.M. to 7:00 P.M., but appointments being highly recommended due to demand. Pfizer and Moderna boosters are recommended for the following people who received the second dose of the COVID-19 vaccine at least six months prior:
A Johnson & Johnson booster is recommended for anyone 18 and older who is two or more months from having received the vaccine.  Some research indicates that an mRNA vaccine booster may benefit those who received a single dose of the Johnson & Johnson vaccine. It is recommended that people who received a Pfizer or Moderna series receive a booster of the same vaccine.The Moderna booster dose is half the amount of a first, second, or additional dose. However, if the same vaccine is not available or if a different COVID-19 vaccine is desired, any FDA-approved COVID-19 vaccine can be used for the booster dose, according to the FDA and CDC.Consult with your primary care physician to determine what is the best option for COVID-19 booster for you.   
Recovery Service Center 845-443-8888  RSC[at]co.ulster.ny[dot]us
Ulster County Executive Pat Ryan has established the Recovery Service Center in the wake of COVID-19.  The Recovery Service Center will assist the public on a wide range of topics including: helping direct callers to county and community resources and will allow callers to submit general inquiries and complaints.  The hotline will be able to assist callers with programs and services related to: food, housing, mental health support, employment, business, as well as continuing COVID-19 assistance. The RSC hotline will be available Monday - Saturday 9:00 A.M. to 5:00 P.M.
For many seniors seeking a way to get low-impact exercise that improves health and requires no special equipment, Tai Chi is an excellent solution. Many seniors throughout Ulster County are enjoying the benefits of Tai Chi. Research is showing that an extremely effective way for older adults to improve balance, fitness, and flexibility, and to reduce the risk of falls. Attending group Tai Chi classes is a great way to socialize with others. Watch local Tai Chi instructor Celeste Graves lead a class.
CLICK HERE for January 2022 The BUZZ NEWSLETTER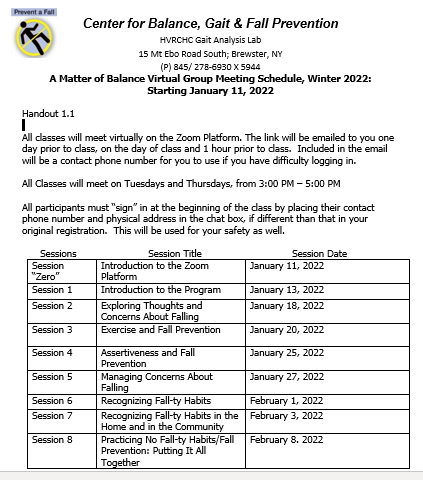 Click here for A Matter of Balance registration information