Table of Contents | Documents and Planning Guides | Appendices and Forms |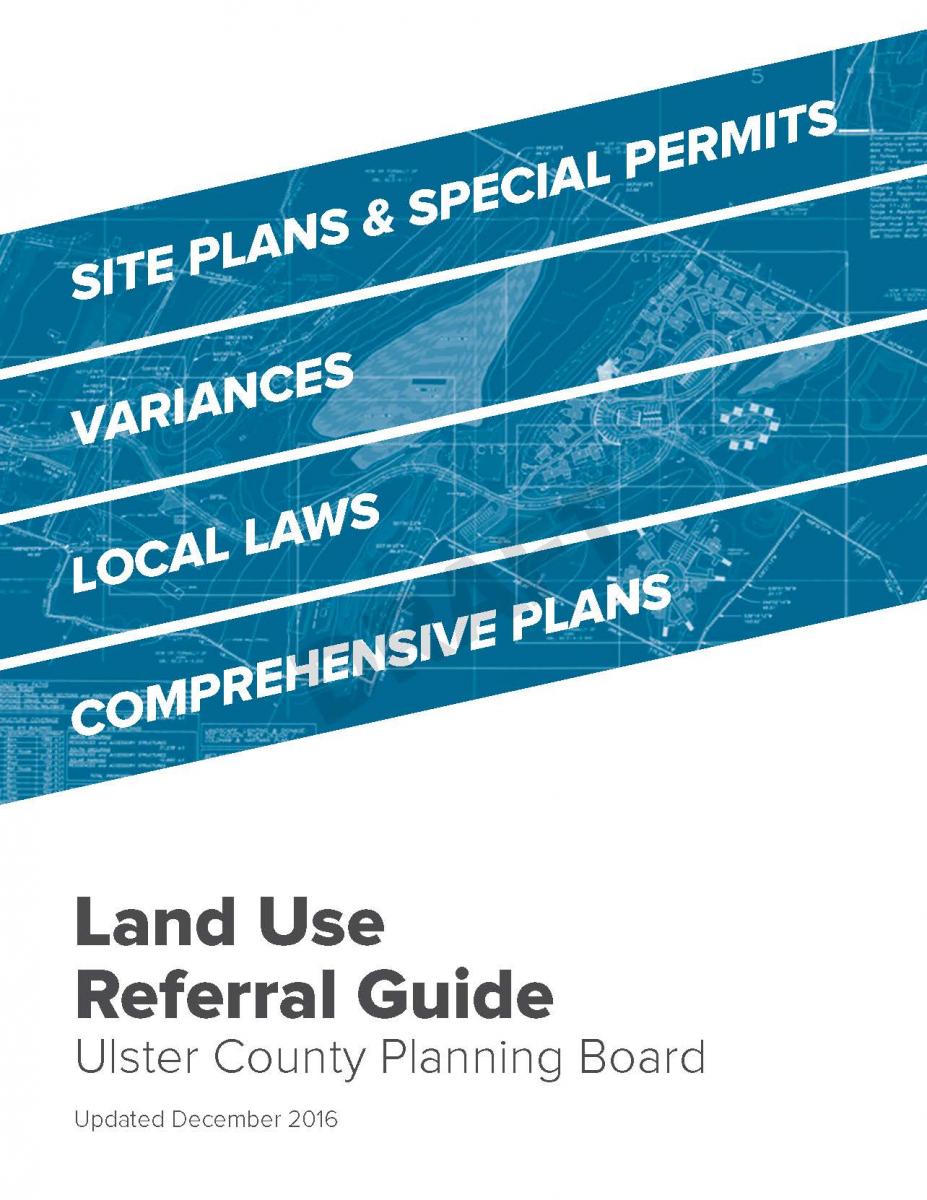 The Ulster County Planning Board (UCPB) Land Use Referral Guide provides information on the General Municipal Law 239 –l, -m, & -n Referral Process that governs reviews by UCPB. This guide contains policies and procedures that should be utilized at the earliest stages of the land use approval process. it is available in both PDF and web/online format.  The updated Referral Guide is complemented by the Community Design Manual.
If you are new to the referral submittal process and are staff to a referring body, please contact Robert Leibowitz at 845-340-3340 so we can guide you through the process and/or refer to the Referral Guide Materials on this page.
Referrals will ONLY be accepted in paper mail format or via our Dropbox Referral System. Referrals will not be accepted via email. Additionally, all referral materials should come directly from the referring body, not the applicant in order to ensure the reviewing body has indeed reviewed these materials prior to submittal.
Table of Contents
About this Guide
Referral Process Basics
Meeting Policies and Procedures: The UCPB's Monthly Meeting
Frequently Asked Questions
Ulster County Comprehensive Planning: How UCPB Policies Relate to Referrals
Guidelines: Guidance for UCPB Referral Recommendations
Using the Community Design Manual
Documents and Planning Guides
Ulster County Planning Board Referral Guide (Printable Version)
Access Management Guidelines (PDF)
Bike and Pedestrian Primer (PDF)
Transportation Strategies For Quality Communities (PDF)
Outdoor Lighting Planner's Memorandum (PDF)
Mining Planner's Memorandum (PDF)
Planning Ulster Planning Guide: Local Wetland Regulations (PDF)
Appendices and Forms
UCPB Referral Form (Fillable PDF Document)
Sample Referring Agency Exception's Agreement
NYS General Municipal Law Article 13 Section 239 -l, -m, & - n
Ulster County Charter Article VII Department of Planning
Variance Review Sheet
NYSDOT Highway Design Manual (off-site link)
Ulster County Department of Highway and Bridges: Subdivision Requirements
Ulster County Department of Highway and Bridges: Private Driveway Requirements
New York State Realty Subdivision Laws: Article 11, Title II Public Health Law and Article 17, Title 15, Environmental Conservation Law
Stormwater Pollution Prevention Plan Permit Requirements By Ulster County