Susan Koppenhaver, Director
1003 Development Court
Kingston, NY 12401
Phone: 845-340-3456 or Toll Free at 1-877-914-3456
Fax: 845-340-3583
It is the mission of the Ulster County Office for the Aging to assist and empower older adults and their families to live as independently as possible, with dignity and purpose.
Ulster County will strive to reach more older adults and expand upon its current services by bringing them to remote and  underserved areas of the County.  This includes new educational health promotion, service enrollment and senior advocacy program opportunities so they can stay in, and contribute to, their community.
To view the Ulster County Senior-Friendly Community Action Plan please click here.
The Office for the Aging is open and looks forward to seeing you.  Please be advised that visitors must wear a mask and maintain social distance guidelines.  If you are not feeling well please stay home. In addition, appointments may be made ahead of time by calling 845-340-3456.
Dear Ulster County Seniors!
For those of you who need help with your upcoming Medicare Enrollment plans, now is the time to call!  As this newsletter comes out in November, the enrollment period stops December 7, so time's a wastin'!!
Also, please be advised that the Medicare Savings Plan (MSP in NY State) will raise the monthly income eligibility level from $1,549 to $2,107 in 2023.  This means more people will qualify to save money on their Medicare premiums. Call our office today to find you if you are eligible and begin the application process! Please ask for a Medicare Savings Plan representative as they are eager to get you signed up for these significant savings!
Let's not forget that November is the time when the weather changes toward the cold of winter, and  you may have issues with your heaters/oil burners, etc. HEAP will open up again November 1 – our staff is standing by to help with those applications!
In general, our office is here to assist with: legal help, (Wills, Powers of Attorneys, Health Care Proxies, and other legal advice), Medicare Counseling, tax assistance during tax season, general resources and referral assistance, HEAP and SNAP assistance (applications), vaccine registration, exercise and fall prevention, case management, Community Café dining, and various other events you may want to attend.
All County bus fixed routes stop in front of our Senior Hub, where regular classes and exercise happen weekly.  If car transportation is an issue, please hop on a bus and join us.
Jewish Family Services is starting a new Yard Maintenance Program through a grant they received. They are offering to help with some simple chores for folks who want to remain at home, but need some help doing so – grass cutting, weed-whacking, hedge trimming, brush & debris clearing, leaf raking and yard clean-up.  If interested please call Jason Farina at 845-705-0025. We also have a volunteer who might be able to help.
I'm still looking for volunteer drivers – the rate is now $ .50 a mile, and this is an ongoing need everywhere.
Stay healthy, safe, and get out those sweaters!
Susan Koppenhaver
Director
COVID-19 Booster Shots
Appointments should be made at https://vaccinateulster.com/. Walk-ins at Ulster County Point of Dispensing (POD) Best Buy site in Kingston, NY on Friday's from 11:00 A.M. to 7:00 P.M., but appointments being highly recommended due to demand. Pfizer and Moderna boosters are recommended for the following people who received the second dose of the COVID-19 vaccine at least six months prior:
A Johnson & Johnson booster is recommended for anyone 18 and older who is two or more months from having received the vaccine.  Some research indicates that an mRNA vaccine booster may benefit those who received a single dose of the Johnson & Johnson vaccine. It is recommended that people who received a Pfizer or Moderna series receive a booster of the same vaccine.The Moderna booster dose is half the amount of a first, second, or additional dose. However, if the same vaccine is not available or if a different COVID-19 vaccine is desired, any FDA-approved COVID-19 vaccine can be used for the booster dose, according to the FDA and CDC.Consult with your primary care physician to determine what is the best option for COVID-19 booster for you.   
Recovery Service Center 845-443-8888  RSC[at]co.ulster.ny[dot]us
Ulster County Executive Pat Ryan has established the Recovery Service Center in the wake of COVID-19.  The Recovery Service Center will assist the public on a wide range of topics including: helping direct callers to county and community resources and will allow callers to submit general inquiries and complaints.  The hotline will be able to assist callers with programs and services related to: food, housing, mental health support, employment, business, as well as continuing COVID-19 assistance. The RSC hotline will be available Monday - Saturday 9:00 A.M. to 5:00 P.M.
New York State GetSetUp free online classes for Seniors at https://www.getsetup.io/partner/NYSTATE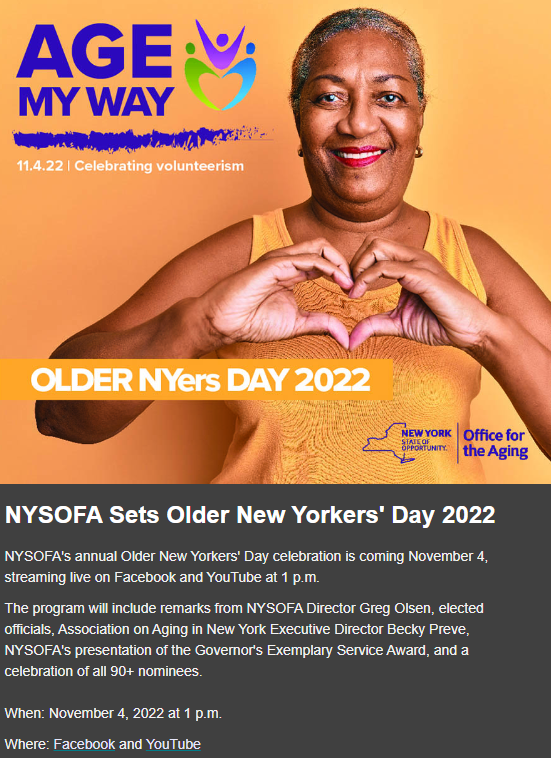 CLICK HERE for November 2022 The BUZZ NEWSLETTER