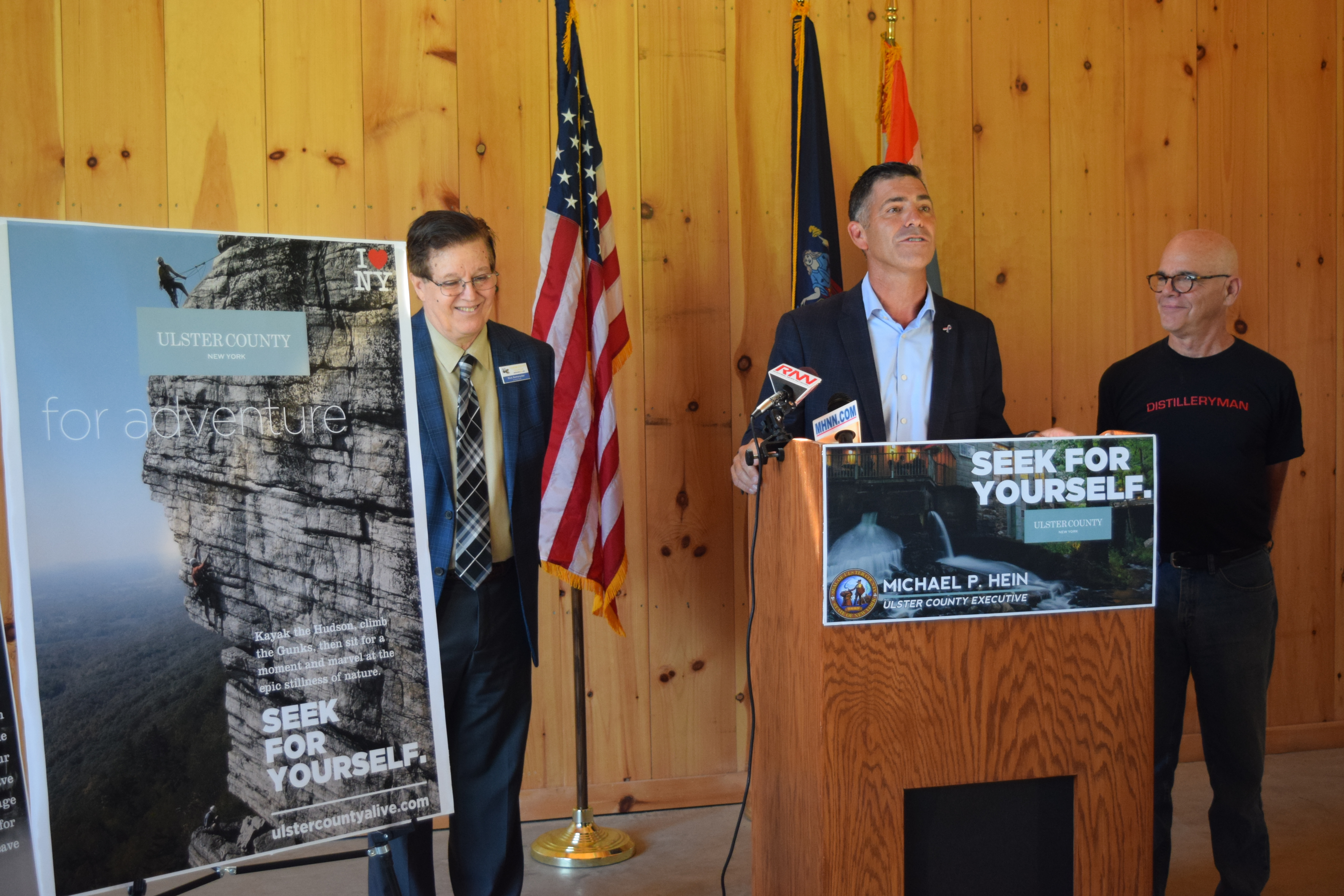 Posted August 10, 2017
Gardiner, N.Y. – Surrounded by the unmistakable scenery of the Tuthilltown Spirits in beautiful Gardiner, Ulster County Executive Mike Hein was joined by Ulster County's Director of Tourism Rick Remsnyder, members of the Tourism Advisory Board, representatives of William Grant & Sons and other businesses to announce the launch of Ulster County's new tourism marketing campaign and highlight the continued unprecedented economic growth of tourism in Ulster County. 
For the seventh consecutive year, tourism spending has increased in Ulster County, resulting in tourism revenue of $554 million for 2016, which is an increase of $21 million compared to 2015. In addition to the increased spending by tourists, 2016 set an all-time record for Hotel Occupancy Taxes with the County collecting over $1.4 million, an increase of 7% over 2015.  To continue tourism growth, Ulster County is launching a new marketing campaign entitled `Seek For Yourself´ which welcomes to entice visitors to seek out and create their own experience in Ulster County by highlighting not only the County's marquee assets, but also the more hidden treasures. The campaign encourages visitors to seek out and help craft their own unique experience whether based in adventure, culinary, relaxation, history or a combination of them all.  
The new campaign will launch across the County's various media platforms, including print advertisements, the County's tourism website (ulstercountyalive.com), radio and multiple social media venues.  This campaign was developed after extensive outreach by the developer, Cubic, Inc., to area businesses, residents and visitors.
Michael P. Hein, Ulster County Executive
"Ulster County continues to attract tourists from all across the world at an amazing rate and our 2016 tourism numbers reveal just that," said County Executive Mike Hein.  "Our tourism industry is vital to our local economy so it is important to continue attracting visitors to our beautiful County where they can enjoy our history, scenery, festivals, rail trails and the many other exciting attractions.  In order to further highlight the amazing qualities of Ulster County we are pleased to launch a new marketing campaign to reach even more individuals and families, encouraging them to seek out and help craft their own experience, whether they are looking for adventure, relaxation, history or world-class cuisine.  I want to thank everyone at William Grant & Sons for hosting today's event, and I know I speak for a great many people when I say Ulster County, and indeed the Hudson Valley, is very excited for their plans for Tuthilltown that will surely make it even more of a premier east coast destination."
Rick Remsnyder, Director of Ulster County Tourism
"Ulster County has become a premier location for people all over the metro-New York area, as well as an increasingly attractive location for out of state tourists and world travelers," said Rick Remsnyder, Director of Ulster County Tourism. "According to the New York State commissioned report by the Oxford Economics Company, tourism spending in Ulster County has increased from $420 million in 2009 to $554 million in 2016, an increase of $134 million or 32 percent in just seven years.  None of this would be possible without the support of County Executive Mike Hein, who recognizes the economic importance of the tourism segment of our economy and commits to expand it to the benefit of our businesses and residents."
William Grant & Sons Holdings Ltd. is an independent family-owned distiller headquartered in the United Kingdom and founded by William Grant in 1887.  Founded in 1964, William Grant & Sons USA is a wholly-owned subsidiary of William Grant & Sons, Ltd. and features one of the fastest growing spirits portfolios in the USA with brands such as Glenfiddich, The Balvenie, Hendrick's Gin, Sailor Jerry Spiced Rum, Tullamore D.E.W. Irish Whiskey, Drambuie and also includes Hudson Whiskey which is produced at Tuthilltown.
As a further testament that Ulster County as a vacation destination is no longer a secret, in response to requests so far in 2017, 7,800 travel guides have been sent to travelers looking to visit Ulster County, which is already a 63% increase from the previous year.
Pictured Above: Ulster County Executive Mike Hein is joined by Rick Remsnyder, Director of Ulster County Tourism, and Ralph Erenzo, Co-Founder of Tuthilltown Spirits, to announce the "Seek For Yourself" Campaign.