FOR CONTROLLED BURNS CALL 845-338-1440
Michael J Madison
Deputy Director / Emergency Manager
238 Golden Hill Lane
Kingston NY 12401
Office: 845-943-5927
Email: mmad[at]co.ulster.ny[dot]us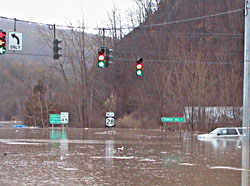 Emergency Management is a division of the Ulster County Department of Emergency Services. The four pillars of Emergency Management are preparedness, response, recovery and mitigation from natural and man made disasters.
View the County's Comprehensive Emergency Management Plan
On a day-to-day basis, Ulster County Emergency Management staff performs disaster planning, training, and exercise functions. During emergency activations, Emergency Management is responsible for managing the operations of the EOC. EOC staff is responsible for the overall coordination of Ulster County incident management and resources during disaster response and recovery operations.
The primary purpose of the county EOC is to perform four core functions:
Collect, analyze, and share information
Coordinate response and recovery efforts
Communicate clearly to all responsible parties, in a unified voice
Coordinate and track resource requests
In the event of an emergency, we will conduct emergency operations to save lives and property by positioning emergency equipment and supplies; evacuating potential victims; providing food, water, shelter, and medical care to those in need; and restoring critical public service.
The onset of an emergency creates a need for time-sensitive actions to save lives and property, as well as for action to begin stabilizing the situation so that the jurisdiction can regroup. Such response actions include notifying Emergency Response personnel of the crises, warning and evacuating or sheltering the population if possible, keeping the population informed, rescuing individuals, and providing medical treatment, maintaining the rule of law, assessing damage, addressing mitigation issues that arise from response activities, and even requesting help from outside the jurisdiction.
Ulster County Emergency Operations Center
The Ulster County Emergency Operations Center (EOC), is supervised by the County Emergency Manager and operates at the direction of the Director of Emergency Services. Additionally in conjunction with county departments, agency liaisons and municipalities it will act as the primary direction and control facility during times of disasters and other warranted emergency situations for the assignment of resources as well as the coordinated response and recovery efforts.
Local State of Emergency
The Declaration of a Local State of Emergency (SOE) and Emergency Order (EO) provides for the waiver of normal procedures and formalities during a disaster otherwise required of political subdivisions by law pertaining to:
Performance of public work and taking action that is necessary to assure health, safety, and welfare of the community;
Entering into contracts;
Incurring obligations;
Employment of permanent and temporary workers;
Utilization of volunteer workers;
Rental equipment;
Appropriate and expenditure of public funds
This is found in NYS Article 2-B: State and Local Natural and Man-made Disaster Preparedness
Dial 911 in an Emergency