Posted September 9, 2022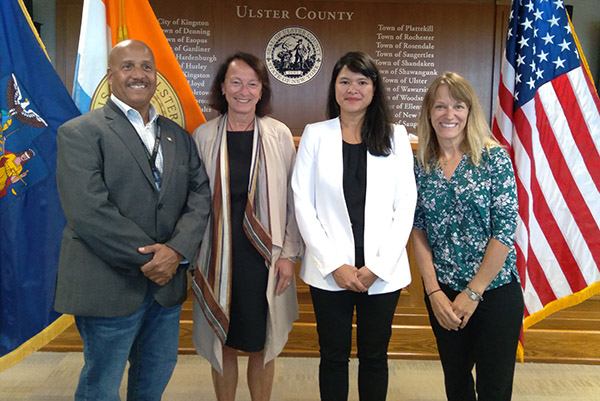 Former Deputy to County Executive Ryan will serve until new County Executive is elected to complete his term 
KINGSTON, N.Y. - On Friday, September 9th
Johanna Contreras - Deputy County Executive under the Pat Ryan administration - was sworn in as Acting Ulster County Executive, having been designated by Ryan as successor prior to his beginning his term as Congressman for NY-19.
"It is a true honor and privilege to serve Ulster County residents as Acting County Executive," Acting Ulster County Executive Johanna Contreras said. "I am committed to building upon the successes of County Executive Pat Ryan's administration and continuing our work to support green growth and economic opportunity, provide financial relief to residents and govern with transparency and fiscal responsibility. I have always centered the values of equity and inclusion and will continue to do so as Acting Ulster County Executive. I am proud to lead our Ulster County team of professionals who do the work every day to earn the public trust and serve our residents."
On Friday morning at 10AM, before County staff and Elected Officials, and together with her family, Acting County Executive Contreras took the oath of office, administered by Ulster County Clerk Nina Postupack in a ceremony held at the Ulster County Office Building in Kingston.
"I am pleased to administer the oath of office to our new Acting County Executive," said Ulster County Clerk Nina Postupack. "During her short tenure in county government, Johanna has already shown her ability to navigate the needs of departments and those they service with compassion and understanding, while bringing deep knowledge to the issues they face. Her wealth of experience and ability to listen and lead will allow her to get the job done while our County faces another transition period. I am confident that she will be the bridge between administrations."
Former Ulster County Executive and Congressman-elect Pat Ryan "I congratulate Johanna Contreras on being sworn-in as acting County Executive and I am confident she will serve our residents with the integrity and honor that she has shown throughout her career in public service. She will build upon the many successes that we have had in Ulster County and our community is lucky to have her in this position."
"I congratulate Johanna Contreras on her appointment as Acting Ulster County Executive and look forward to partnering with her during this critical transition period. Johanna has already demonstrated a commitment to excellence in Ulster County government and approaches each interaction with respect and candor," said Chairwoman Tracey Bartels "I have full confidence that Acting Executive Contreras will strive to maintain continuity and will serve the residents of Ulster County with dedication and distinction in this very important interim role.
Johanna Contreras was previously a Deputy County Executive in the Ryan Administration. As Deputy County Executive, she was responsible for the Health and Human Services portfolio, which includes the departments of Health, Social Services, Mental Health, Youth, Human Rights, Aging, and Veterans Affairs. She had previously worked in the Mayor's Office of Management and Budget in New York City since 2013, leading the Education Task Force which oversees the budgets of the New York City Department of Education, City University of New York, and School Construction Authority. She holds a Master of Science in Urban Policy Analysis from the Milano School of Policy, Management, and Environment at The New School and earned her undergraduate degree from the University of Illinois at Urbana-Champaign. Contreras lives in Kingston with her husband and two children.
Photo: Acting County Executive Johanna Contreras poses after being sworn in with Ulster County Sheriff Juan Figueroa, Ulster County Clerk Nina Postupack and Ulster County Legislative Chairwoman Tracey Bartels.