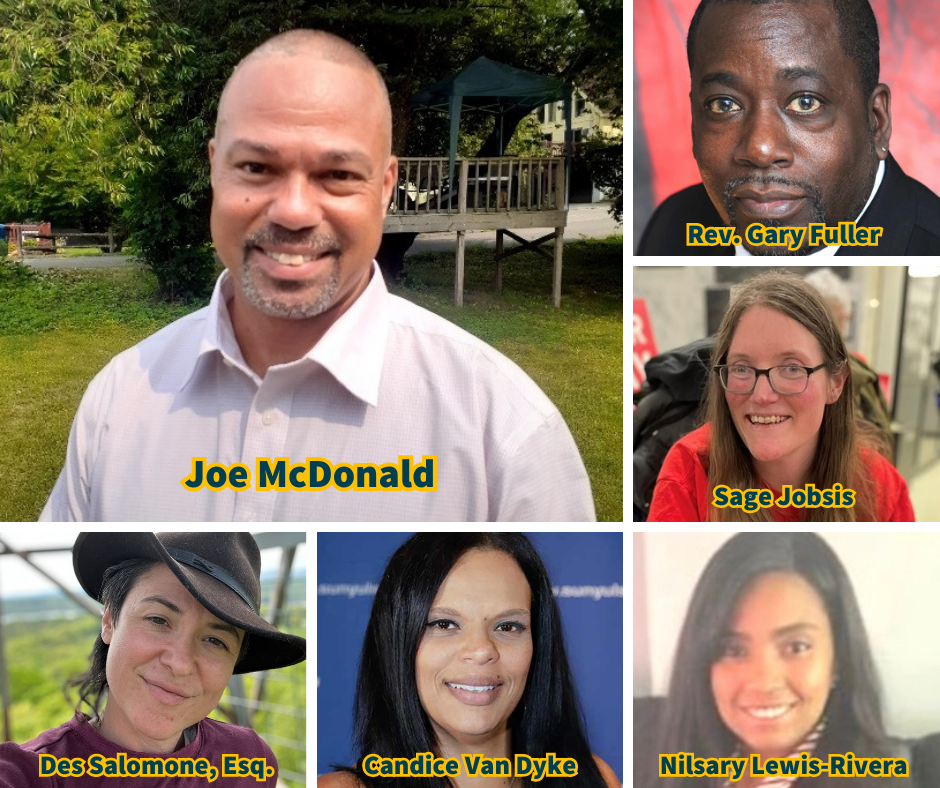 Posted July 28, 2023
Appointments Made by County Executive and Legislative Leadership
KINGSTON, NY - Ulster County Executive Jen Metzger today announced the appointment of Joe McDonald as the new Director of Human Rights, and the County Executive and Legislative Leaders have also announced a total of four new appointments to vacant positions on the Human Rights Commission that diversify the Commission's representation and expertise. Two of the Commission appointments were made by the County Executive, and one each was made by Chairperson of the County Legislature Tracey Bartels and Minority Leader Ken Ronk.
McDonald, a Kingston native, has over 20 years of management experience working with under-resourced populations, most recently serving in a supervisory position with the New York State Office of Children and Family Services, where he investigated complaints relating to childcare and oversaw enforcement actions. In this role, McDonald has been a member of the statewide Diversity, Equity, Inclusion, and Accessibility Committee. Earlier in his career as a Youth Case Manager, he provided LGBTQ+ resource training to staff at multiple facilities across the Hudson Valley. McDonald, a former Kingston High School track star and Olympic bobsled competitor, has also been serving as a mentor to youth in the Ulster County Brighter Futures Initiative. McDonald has Bachelors and Masters degrees in Organizational Management, and is currently pursuing a Ph.D. in Psychology.
"I am thrilled to appoint Mr. McDonald to lead the Ulster County Department of Human Rights," said County Executive Metzger. "Joe's appointment marks a turning point in our efforts to create a more inclusive and compassionate community here in Ulster County. His strong leadership, management, and investigative skills, experience in promoting diversity, equity, inclusion, and accessibility, and passion for human rights will be enormous assets to the Commission's work. Together with new Human Rights Commission Chair Reverend Gary Fuller, we have a fantastic leadership team at the helm of the County's human rights work." 
"I am excited to begin my new position with Ulster County as the Commissioner of Human Rights," said Joe McDonald. "I am a life-long resident of Ulster County and truly blessed to be able to serve this community by standing up and promoting our fundamental rights as human beings. I come from a close, diverse family and believe that diversity makes our community stronger. No one should be discriminated against for any reason. I look forward to working closely with the Human Rights Commission to explore opportunities for improving relations among all people of Ulster County."
Last month, County Executive Metzger appointed existing Commission member Reverend Gary Fuller to serve as Chairperson of the Human Rights Commission. Reverend Fuller has spent a lifetime as an advocate for justice and human rights, particularly in the fields of housing and healthcare. He has previously advocated on behalf of claimants in housing court, represented claimants at administrative hearings before agencies such as the New York State Office of Temporary and Disability Assistance, and represented disabled children at Superintendent suspension hearings. He currently serves as pastor of the St. Paul African Methodist Episcopal (AME) Zion Church in Ellenville, as Co-Chair of the Ellenville Police Advisory Commission, and is an active member of the Ellenville branch of the NAACP. He previously worked with under-resourced children and families as a psychiatric case manager and parole officer. He has served two full terms as a member and Chair of the City of Mount Vernon Board of Ethics where he drove organizational change and the promulgation of concrete policies and procedures. Reverend Fuller was appointed to the Commission in 2022 by then-County Executive Pat Ryan.
"It is a pleasure and a distinctive honor to serve the people of Ulster County in my capacity as Chair of the Ulster County Human Rights Commission, and I look forward to collaborating with the Executive Director McDonald upon his confirmation," said Reverend Gary Fuller. "I'm quite confident that our collaboration will yield the very best advocacy actions for the people of Ulster County. The Commission is populated with proficient and professional advocates for justice, and I am proud to work alongside each and every one of them.  We are moving forward, and will be laboring together to establish the procedural confines that will improve how the Commission responds to the work that is before us. It is by design that we have all come together at a time such as this to give every part of our work the attention and professionalism it deserves. Finally, we are looking forward to hosting many town hall meetings throughout the County, so that we can inform all citizens that the Ulster County Human Rights Commission is here for all people."
Filling four vacancies on the Commission, County Executive Metzger has appointed Nilsary Lewis-Rivera from the Town of Wawarsing and Sage Jobsis from the Town of Rosendale, Chairperson Bartels has appointed Des Salomone, Esq. from the City of Kingston, and Minority Leader Ronk has appointed Candice Van Dyke from the Town of Ulster.
Nilsary Lewis-Rivera, a native Spanish speaker, is a lifelong resident of the Village of Ellenville and serves as the Recreation Director for the Town of Wawarsing. She has extensive experience working with bilingual youth and families, helping them build positive relationships in the greater Ellenville community. She will add critical representation to the Human Rights Commission as the first and only bilingual commission member. 
Sage Jobsis is a resident of the Town of Rosendale and is living with Multiple Sclerosis, a degenerative disease that has left her physically disabled for the last 13 years. Jobsis has used her personal experience of transitioning from being fully able-bodied to living with a disability to advocate for all members of the disability community at the state level. Her appointment will bring indispensable representation and perspective to the Human Rights Commission.
"It is important to me that we have broad representation on the Human Rights Commission reflective of the diversity of our county and with personal understanding of the challenges faced by those who seek the Commission's help," said County Executive Metzger. "Nilsary and Sage bring needed perspectives to the Commission, as well as a track record of experience in public service and advocacy, and are certain to make positive contributions to the Commission's work."
Des Salomone, Esq. is a resident of the City of Kingston and is a celebrated attorney who has dedicated their career to combating injustice and discrimination. Salomone spent most of the last decade as a staff attorney at the Legal Aid Society and currently serves as an attorney at a private workers-side employment firm. They have received numerous accolades including the 2015 Pace University LGBTQA & Social Justice Alumni Achievement Award, and the 2014 Winifred Sobie Pasternack Memorial Award in Civil Rights. Salomone brings indispensable legal and personal experience to the Human Rights Commission.
"I am thrilled to appoint Des Salomone to the Human Rights Commission. They bring extensive expertise in constitutional, human rights, and employment law to the Commission," said Chairperson Tracey Bartels. "Throughout their legal career, they have been dedicated to safeguarding civil and human rights, demonstrating an unwavering commitment to inclusivity and equality. Des' profound experience in mediation and handling complex legal matters will undoubtedly enhance the Commission's ability to protect and uphold the rights of every individual in Ulster County. I am confident that Des' appointment marks a significant stride toward advancing justice, inclusivity, and equality throughout our county."
Candice Van Dyke lives in the Town of Ulster and is a lifelong Ulster County resident. Van Dyke serves as the Chief Diversity Officer and an Associate Professor at SUNY Ulster. She has extensive experience in conflict resolution, humanistic education, and diversity, equity, and inclusion. Van Dyke brings to the commission a commitment and passion for social justice that will help the Commission advance its mission.
"The County's Human Rights Commission has an obligation to serve the community, and It's time for us to move past the distractions of the last few months so that they can continue to do just that with a full complement of competent, capable, and dedicated Commission members," said Minority Leader Ken Ronk. "I am excited to nominate Candice Van Dyke, an Ulster native and community leader who has dedicated her life to education and the pursuit of equality and justice. I am confident that she will serve Ulster County residents with distinction and respect."
The four appointments to the volunteer Human Rights Commission do not require any confirmation votes from the County Legislature and are effective immediately. County Executive Metzger's appointment of Joe McDonald as Human Rights Commissioner is subject to confirmation by the County Legislature and is expected to be voted on at the body's August regular meeting. 
###
Courtesy photos are attached.
ulstercountyny.gov
Ulster Essential Category: